Ailís Ní Ríain on her artist residency at the Virginia Centre for the Creative Arts
Thu 26 Jul 2018
Composer Ailís Ní Ríain reports on a residency she undertook at Virginia Centre for the Creative Arts in April of this year
I recently returned from a one-month residency as a Fellow at the Virginia Centre for the Creative Arts, in Virginia State, USA. While there, I primarily focused on developing new repertoire for prepared/altered piano. Having studied piano seriously until my early twenties, I consider it my artistic 'home,' the place I am most at ease creatively.
Over the past few years, I have been drawn increasingly to improvisation and experimentation through adapted piano and live alterations. Some of these fall into the area of 'prepared piano.' However my interests are broader and cover the live alteration of the instrument – and therefore it is, not always 'prepared' or 'fixed.' I was particularly pleased to be offered a one-month residency at VCCA as this is one of the few places where a composer/musician can avail of an independent studio that houses a grand piano. Of particular importance for me, I was able to leave my various configurations in the instrument overnight – throughout the month – without the need to remove them for a fellow artist as is normal when several composers/pianists are sharing one piano. This really made a difference, as I was able to gradually develop and progress the alteration of the piano and document it day by day over the course of 28 days - a rare opportunity, and one that was critical to my work.

The piano which Ailís Ní Ríain used during her residency
The Virginia Center for the Creative Arts, which was opened in 1971, is one of the leading artists' communities in the world with locations in Amherst, Virginia and Auvillar, France. Its mission is to advance the arts by providing creative space in which the best national and international writers, visual artists and composers can produce their finest creative work.
Each year, VCCA hosts over 500 artists. Selection is by a peer review jury on the basis of the importance or innovation of the work of candidates in their respective fields. During my stay, there were three composers, ten writers and nine visual artists - a really wonderful mix.
VCCA has a unique relationship with a local educational establishment, Sweet Briar College, an impressive and vibrant liberal arts women's college, founded in 1901. I was invited to give a presentation about my work to Sweet Briar students, other VCCA fellows and the general public.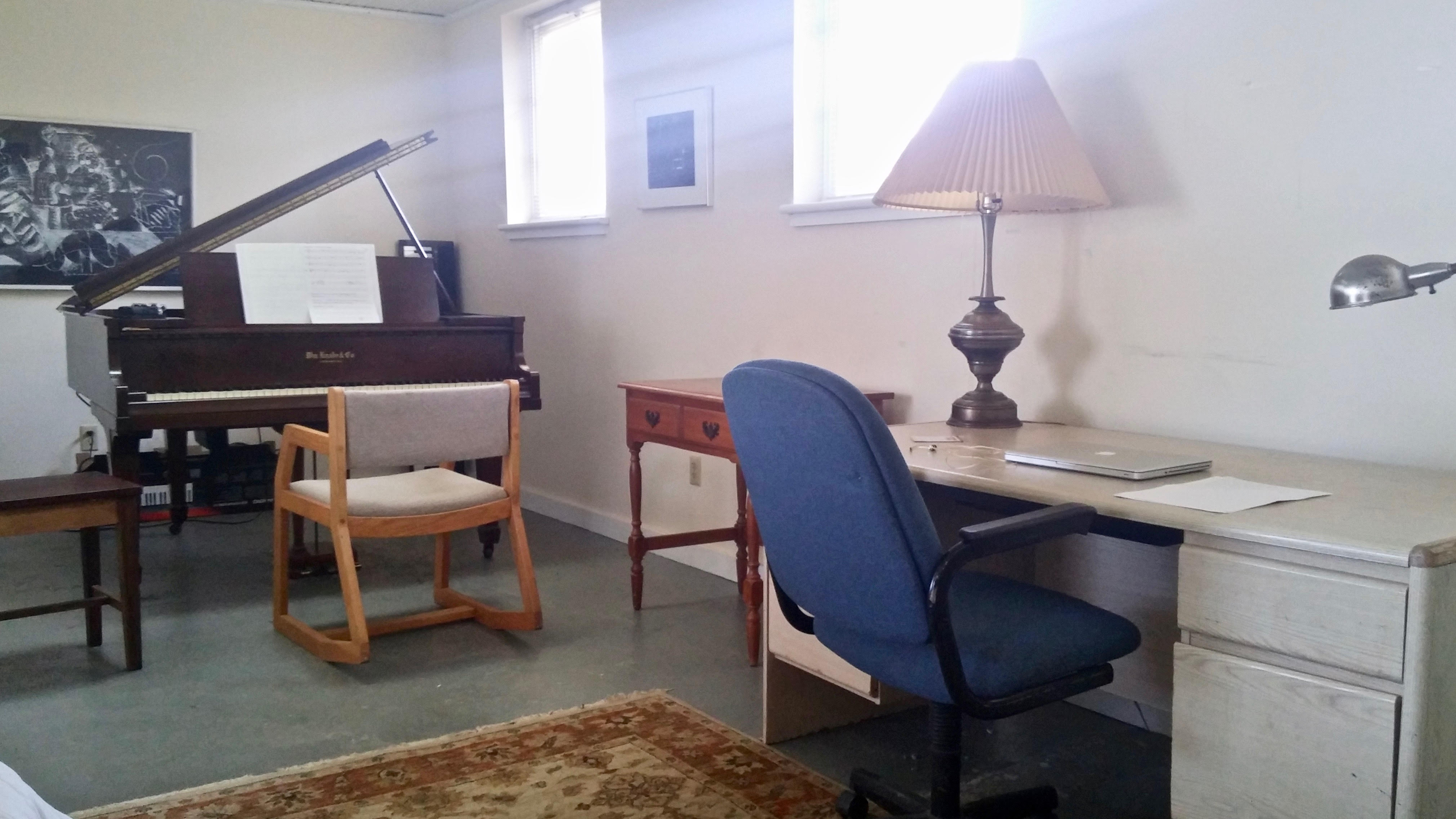 Ailís Ní Ríain's studio at VCCA
During my stay I also participated in an Open Studio on one of the afternoons, where I played a short work to demonstrate the sounds that were preoccupying me at that time, and answered questions from visitors about how the sound was produced. About 45 people visited my studio, and it was rewarding to have that immediate face to face response with an audience, something we seldom experience as composers. The Virginian visitors were upbeat, interested and open-minded, which helped calm my nerves and made the experience easier and more enjoyable for me.

Ailís Ní Ríain performing on the prepared piano at VCCA  
As a 'freelance' composer and writer, my schedule is my own. However, those of us managing our artistic lives in this way often find that a good deal of time gets directed into administration, research, travel, producing, etc. This can be distracting if I am trying to compose or write.
The residency was a rich and rewarding experience for me, where I met writers, composers and artists and enjoyed conversations, sharing of work, readings and recitals. For me, this set up was conducive to creating good work - calm and quiet, and a certain peace of mind.
I am grateful to The Arts Council / An Chomhairle Ealaíon for supporting my travel to Virginia and to VCCA for offering me a fellowship place.
Listen to two of the pieces which Ailís Ní Ríain composed during the residency