CMC Sparky Conversations #5: Stolen Music with Sebastian Adams (Online)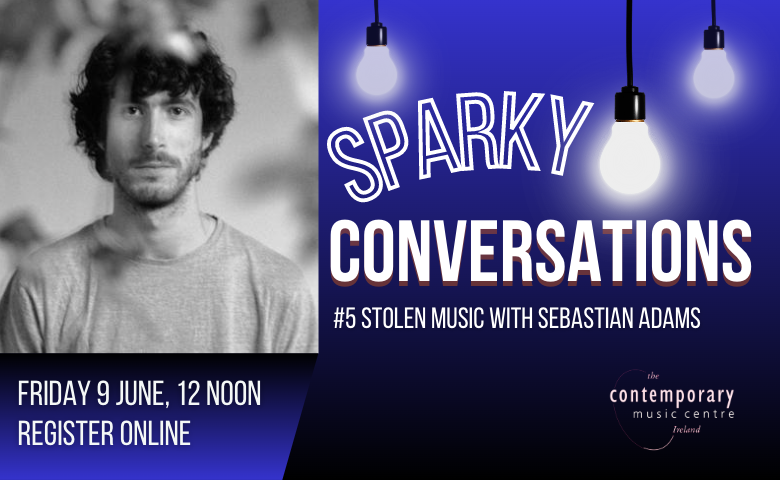 The Contemporary Music Centre is delighted to welcome Sebastian Adams to lead the next instalment in our new online series: Sparky Conversations. Sparky Conversations are monthly community conversation events that bring composers, performers and contemporary music practitioners together to explore big topics, dive deep and spark ideas.
Hosted by CMC, each month's event will focus on a specific topic of interest to the new music community – from audience development, to copyright and creative freedom, to diversity and inclusive practice, to climate action for artists – and invite a guest to talk about their experience of that topic in an open conversation. It is a space to discuss, ask questions and share experiences, even to disagree. 
Sparky Conversations #5: Stolen Music
Sebastian Adams believes that current copyright laws serve the interests of corporations better than those of the artists and inventors they were created to protect, have a chilling effect on the creation of new derivative work, and help the public hold on to a 19th-century ideal of how creative work is made. His ongoing multimodal work Stolen Music invites other composers to follow his example (and those of other contributors to the Plunderphonics movement) by flagrantly disobeying copyright law and donating their work to the public domain. 
Sebastian Adams is an Irish composer, performer and artistic director with a broad practice centring on conceptual music. Recent projects include a string quartet performing in the sea as the tide rises around them. In 2012 he founded Kirkos, an experimental music ensemble which currently runs one of Dublin's only DIY music venues.
He has been widely commissioned within Ireland and performed abroad in places including Paris, Montréal, Vienna, Cologne, Potsdam, Antwerp and Görlitz. He was Composer-in-Residence for RTÉ lyric FM in 2016/17 and represented Ireland in the International Rostrum of Composers in 2017. As a performer, Sebastian Adams has created solo projects, premiered many chamber and solo works for viola, and enjoys working closely with composers on their music. He also occasionally performs early music on viola and gamba. He studied in Dublin with Kevin O'Connell and Jonathan Nangle, and in Vienna with Karlheinz Essl, and completed the IRCAM Cursus programme in Paris in 2022.
Photo of Sebastian by Miriam Kaczor.
Register
This is a free, online event designed for composers, performers, and those with an interest in contemporary music on the island of Ireland. Register for the Zoom event here.