Sparky Conversations #9: New Music and the (Experience) Economy with Dr Stephen Graham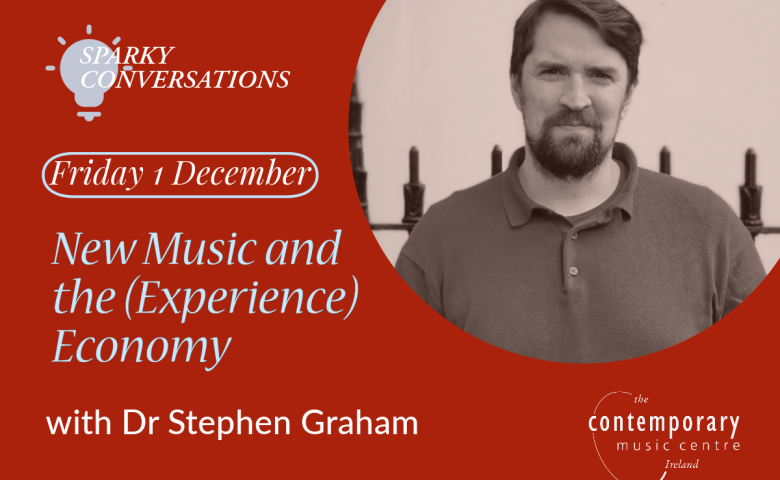 Sparky Conversations are monthly online community conversation events that bring composers, performers and contemporary music practitioners together to explore big topics, dive deep and spark ideas! All are welcome to ask questions, share experiences and engage with a broad range of issues affecting the music community, and our world at large. 
Building on political-economic discussions of music by Marianna Ritchey and Timothy Taylor, this talk considers the ways in which radically participatory, collaborative new music might be shaped, and even defined by capitalist priorities; especially recent ones formulated around the idea of the 'experience' economy. This perspective is not taken in order to present any kind of 'gotcha' argument but, instead, to explore new ways of understanding new music's role in capitalist culture and capitalist culture's role in new music.
Dr Stephen Graham
Stephen studied at University College Dublin (BMus) and King's College London (MMus) before coming to Goldsmiths in 2008 to do a PhD on 'underground' music. After completing the PhD in 2012 and joining the staff of the Music Department, Stephen expanded and developed the research into a book; Sounds of the Underground was published by University of Michigan Press in May 2016.
Stephen's newest monograph, Becoming Noise Music, was published by Bloomsbury in 2023. Stephen co-authored a multi-generic history of twentieth century music for Cambridge University Press (2022, with Tom Perchard, Holly Rogers and Tim Rutherford-Johnson).
Stephen wrote chapters on popular modernism (Routledge, 2018), popular music biography and life writing (Oxford, forthcoming) and fringe music writing (Routledge, 2023). His article on late style and popular music appeared in the JRMA in 2021, and a piece on 1970s fringe music writing in Twentieth Century Music in 2019.
Register
This is a free, online event designed for composers, performers, and those with an interest in contemporary music on the island of Ireland.
Closed captioning will be available. If you have specific access needs to join this event, please let us know via the registration form.
Register for the Zoom event here.
To look back on the Sparky Conversations Autumn/Winter Schedule click here.