Homebeat presents Ordnance Survey – NOMOS – O'Riada Reimagined, Rónán Ó Snodaigh & Myles O'Reilly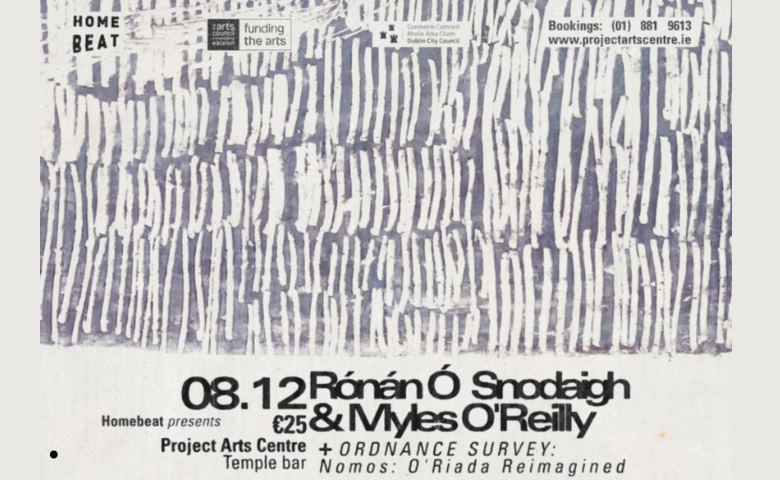 An evening of cutting-edge, contemporary Irish music, presented by Homebeat.
Ordnance Survey – NOMOS – O'Riada Reimagined | Composer Sean O'Riada (1931-71) built the foundations of Irish art music by extending traditional music via both classical and folk music. Ordnance Survey's Nomos: O'Riada Reimagined uses compositional processes within the field of Spectral Music, where decisions are often informed by sonographic representations and mathematical analysis of sound spectra. Such music(s) might not be initially apparent to the ear and historically, innovations within acoustics and psychoacoustics have directly informed these musical possibilities. Nomos: O'Riada Reimagined uses technology as a mode of expression and it is hoped that this variation adds to the language of experimental electronic music in Ireland.
Ordnance Survey
Bio Electronic music composer Neil O'Connor has been making electronic music for the past 24 years, most notably under Somadrone. Ordnance Survey is a collaborative project and attempts to fuse the worlds of electronica, new music, jazz, improvisation and with modular synthesizers. Relative Phase (2019) features collaborations from Sean Mac Erlaine, Linda Buckley, Kate Ellis, John Mc Entire (Tortoise) while Ampere (2020) features Donal Lunny and Cormac MacDiarmada (Lankum). During the lockdown, Field Work (2021) was completed during lockdown and featured field recordings made in Dublin. Nomos: O'Riada Reimagined (2022), is a reworking of O'Riada's work for electronics and pedal steel (David Murphy).
Rónán Ó Snodaigh & Myles O'Reilly | In a spur of the moment decision during a Pandemic lockdown, Rónán Ó Snodaigh, frontman from the Irish folk band Kíla and filmmaker/musician Myles O'Reilly, filled a car with instruments and decamped to a cottage in the remote east of Ireland. In the ethereal sound grown to characterise Myles minimal ambient projects, Rónán found a nest to lay some new lyrics and musical ideas. Two weeks later their critically acclaimed album 'Ta Go Maith' was born. 
Tickets
Tickets available at Project Arts Centre.