SHOWCASE new music::new Ireland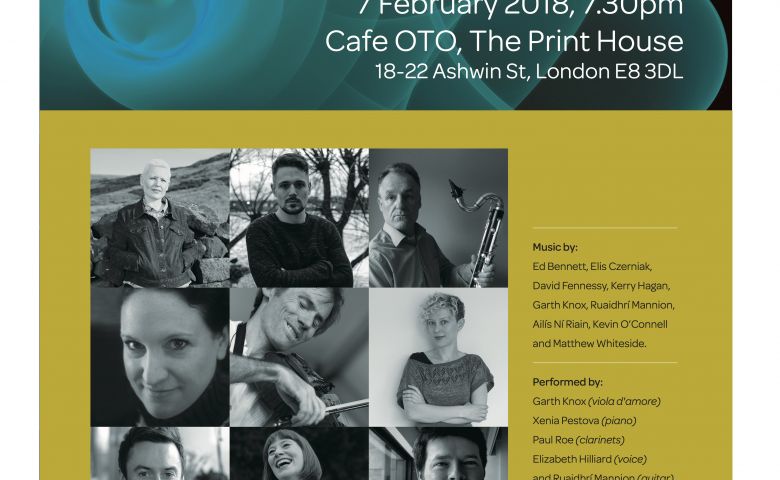 SHOWCASE new music::new Ireland
This showcase performance, presented by the Contemporary Music Centre, Ireland will feature the works of, and short interviews with, composers featured on CMC's new promotional double CD new music::new Ireland three. The showcase will include performances of works by Ed Bennett, Elis Czerniak, David Fennessy (premiere), Kerry Hagan, Garth Knox, Ruaidhrí Mannion, Ailís Ní Riain, Kevin O'Connell and Matthew Whiteside. Copies of the new music::new Ireland three double CD (which will be launched at the Embassy of Ireland in London on 6th February and followed by an Irish launch) will be available free of charge to those attending this event. 
Performers:
Xenia Pestova (piano)
Garth Knox (viola, viola d'amore)
Paul Roe (clarinet, bass clarinet)
Elizabeth Hilliard (voice)
Ruaidhri Mannion (guitar, voice, electronics)
Programme:
Kevin O'Connell Aves de Paso
Elis Czerniak Kolo
Matthew Whiteside Solo for Viola D'Amore and Electronics
Garth Knox Cinq Petites Entropies
Kerry Hagan requiem
Ed Bennett Bright White Lights 
Ed Bennett Spirals
Ailis Ní Riain Into the Sea of Waking Dreams...
David Fennessy Nebenstimme (premiere of version for viola and piano)
Ruaidhrí Mannion The Second Tear Says:
Supported by Culture Ireland as part of GB18: Promoting Irish Arts in Britain.
Tickets can be purchased via Café OTO's website here.