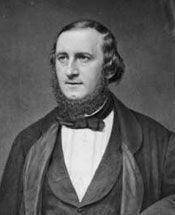 Wallace, born in Waterford city, was the son of a British army bandmaster from Ballina, Co. Mayo. He spent his early life in Ballina, where his father's tuition laid the foundations of his virtuosic violin and piano technique. When Wallace père eventually left the army and the family moved to Dublin, William joined the Theatre Royal orchestra about 1829, rising quickly to sub-leader. He participated in Paganini's concerts at the Dublin music festival of 1831, and was inspired by him to compose a violin concerto.
Having married in 1832, William and the entire Wallace family emigrated to Australia in 1835-36, and set up Sydney's first music academy; William was feted as the first significant virtuoso to appear there. Wallace parted from his wife, Isabella, and son in Sydney, and having traversed South America, arrived in New York in 1843, where his violin playing and his music were both rapturously received.
Wallace transferred to London in 1845, and emulating Balfe's successes in English opera, his first opera, Maritana, produced at Drury Lane that year, made his reputation overnight. Adverse conditions in the London theatres, together with personal difficulties, however, prevented Wallace from capitalising on this success. Of his five later operas, only Lurline (1860) had an equal triumph; others, such as the grand opera, The Amber Witch (1861), although musically significant, were not to the public's taste.
In the interim (1850-55), Wallace had returned to New York, where he became an American citizen, and had a large amount of salon music published. During this period he lived with his second partner, the German-born pianist Hélène Stoepel, and they had two sons. Having returned to Europe with his second family, Wallace, in his later years, developed a heart condition, and died in the south of France, aged only 53. He is buried beside Balfe in Kensal Green cemetery, London.