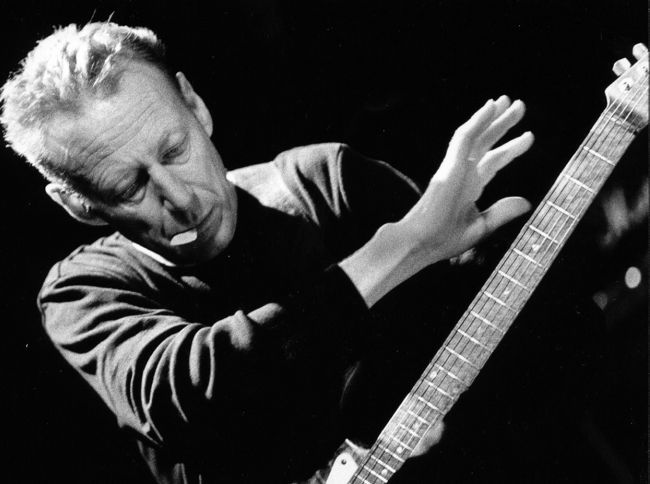 Christy Doran was born in Dublin and has lived in Lucerne, Switzerland since his childhood. His father was an Irish ballad singer.
He has been a member of numerous ensembles, including OM, Christy Doran's May 84 Septet, RED TWIST & TUNED ARROW. He also performs as a solo guitarist, and has played in duos with Marty Ehrlich, Dom Um Romao, Robert Dick and Ray Anderson among others.
Christy Doran has toured in Europe, North-Africa, India, the Caribic, Mexico, the U.S., Canada, South America and Asia. He has given workshops in Switzerland, Austria, Estonia, Germany, Sudan, Cuba, Ireland, India, Bolivia, and the USA.
He currently performs with Christy Doran´s New Bag (founded 1997), Christy Doran's BUNTER HUND, Doran-Kaenzig-Hemingway, XL-TARGET with Joseph Bowie, Doran-Guilfoyle-Hemingway, and Chinese pipa-virtuosa Yang Jing. His music has been released by ECM, Synton, Planisphare, Hat Hut Records, On Cue Records, Creative Works, Konnex, UNIT, Double Moon Records and Between the Lines Records. In 2015 he will release two new CDs: one an interpretation of the music of Jimi Hendrix (with Erika Stucky/voice, Jamaaladeen Tacuma/b, and Fredy Studer/dr) and the second a new CD of Christy Doran's New Bag with eight new compositions by the composer. Both will be on Double Moon Records/Challenge Distribution.
Christy Doran teaches at the jazz department of the Music University of Lucerne, Switzerland. In 2003 he was honored with the Art Prize of the City of Lucerne, Switzerland.
Contemporary Music Centre, Ireland