Classical Ireland
CMC's online shop has Digital Scores, Printed" Scores, Books, & CD's all available to purchase online. The works contained within our Choral Music Catalogues are available to purchase online by licensed download.
"Please be aware that due to the ongoing Covid 19 situation we are currently not fulfilling physical orders, a digital version will be provided at a discounted cost. Please apply coupon code covid19 at the checkout"
Seachanges and RIAM Piano Syllabus pieces are still available to purchase online as a physical product. The price has been adjusted to include P&P.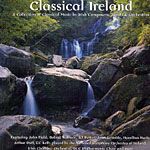 A delightful compilation album of popular Irish orchestral music performed by the National Symphony Orchestra of Ireland, the Irish Chamber Orchestra, the RTE Philharmonic Choir and others. Works include A. J. Potter's barnstorming 'Finnegan's Wake' and evocative music by Hamilton Harty, John Field, Arthur Duff, Joan Trimble, T. C. Kelly and Robert Wallace.