2016 Christmas Message from CMC
Throughout 2016, CMC celebrated 30 years documenting, developing and promoting contemporary music from the island of Ireland. 
It was busy year, with so many musical highlights and creative partnerships at home and abroad. CMC marked our 30th anniversary year with special projects in areas of strategic importance to the organisation. Commencing in March, we launched a new website with advanced features and engaging content, which has increased the number of visitors wishing to explore the diverse and vibrant landscape of new music from Ireland.
In June, CMC hosted the annual meeting of the International Association of Music Information Centres in NUIG, Galway including the conference The Listening Crowd, exploring New Music and audiences featuring a keynote speech from composer Kevin Volans and international speakers and delegates from the new music community and broader arts and culture sector. The IAMIC meeting and conference were complemented by a series of performances of works by Irish composers from Concorde Ensemble and the ConTempo Quartet throughout the weekend, kindly curated by composer Jane O'Leary. We also ackowledge the kind support of NUI Galway, IMRO, Culture Ireland and the Creative Europe Desk for this conference.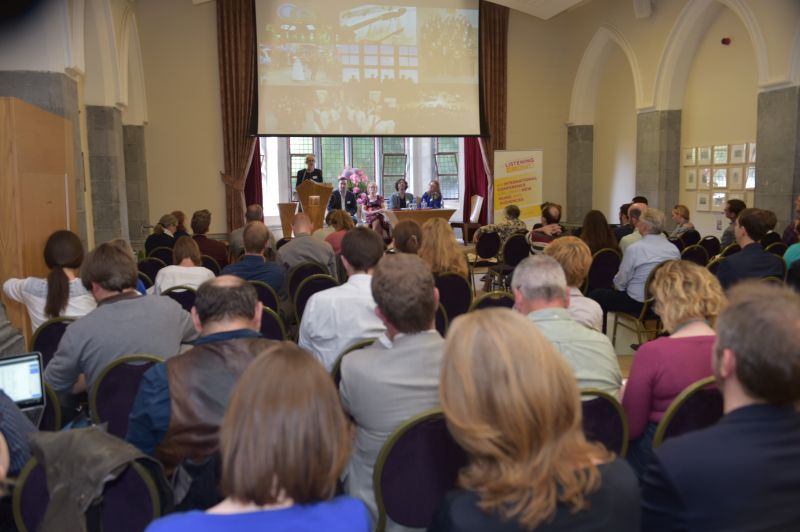 The Listening Crowd Conference at NUI Galway, 11 June 2016 
Through creative partnerships with many individuals and organisations, at national and international level we continued to bring new audiences to the music of Irish composers and to develop opportunities for composers and performers of new music.
The CMC Board and staff are proud to have delivered a new residency for a CMC represented composers at the Centre Culturel Irlandais in Paris; to have continued our partnership wth AIC and the Soundscape festival in Italy for the residency of an Irish composer, now in its fourth year; to have taken part in an international panel on audience development at Classical:Next 2016 in Rotterdam; to partner with the RTÉ National Symphony Orchestra on piloting Composer Lab 2016 scheme as well as with RTÉ lyric fm and the EBU for the Sounds Passing performance at the IAMIC conference in June.
It's also been a joy and pleasure to host the talented perfomers who featured in our last Salon Series and to hear the insightful thoughts of the composers who presented their works in the Salons throughout 2016, curated by Linda Buckley. CMC is developing a new format and new partnership for this long running project early in 2017.
Martin and Adele Johnson, performing at CMC's final Salon Series of 2016 in the Lutheran Hall.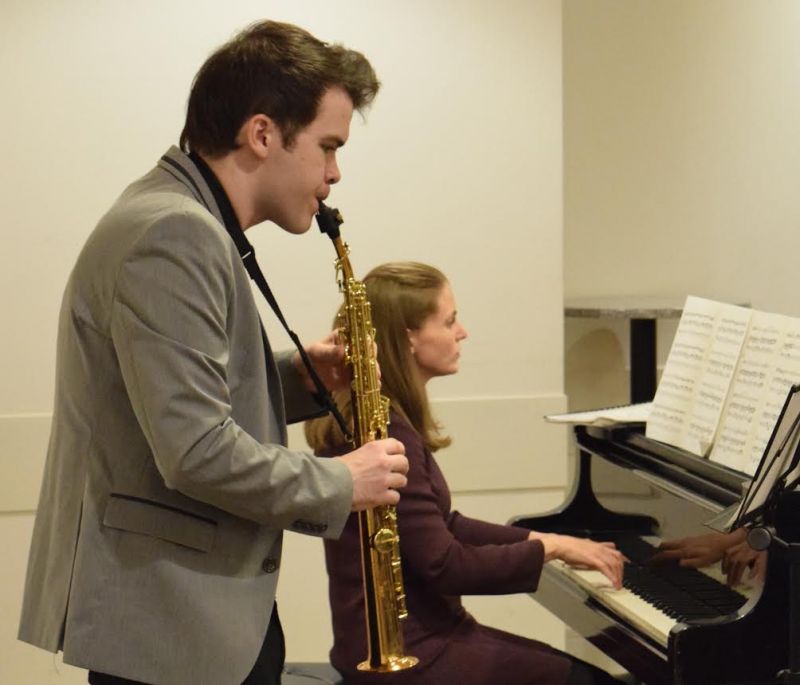 Gavin Brennan and Aileen Cahill perform at our October Salon Series in the Lutheran Hall
CMC also welcomed two talented new members to our team, Susan Brodigan Library Co-ordinator and Stephanie Ford, Commuications and Information Co-ordinator.
Thanks to all of you who have helped us make 2016 such a successful year for new music from Ireland and continued success to all the composers we represent and the performers we are honoured to work with. 
Best wishes for a peaceful holiday season and a musically prosperous 2017 from all of us here at 19 Fishamble Street.
Note: CMC closes for Christmas from the 23 December and will reopen again on Tuesday 3 January 2017 at 10am.