AIRS of OLD DROGHEDA and  ANGELS WE HAVE HEARD ON HIGH  Music by Michael Holohan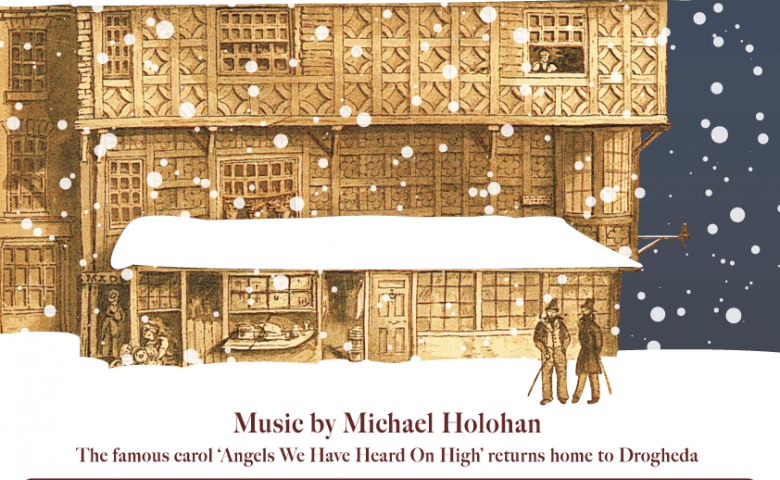 Programme
Michael Holohan composer; singers, soloists, musicians, The Tredagh Singers and The Boyne Valley Chamber Orchestra will come together to re-premiere a new orchestral arrangement of the famous Christmas Carol 'Angels We Have Heard on High'.
The lyrics of this famous carol was written in 1862, by none other than a man from Drogheda, Archbishop James Chadwick whose parents are buried in the vaults of the Augustinian Church, Shop St.
This concert promises to be an historic evening. The composer feels that it is like 'bringing the carol back home' from the wider world and giving it back as a  Christmas present  to the citizens of Drogheda'. The carol will be sung in English, Irish and French.
Michael has assembled a star studded line up which will include the following performers:Mick O'Brien uilleann pipes; Hannah O'Brien, Niamh Browne, Amie Dyer, Amy Judge, Trudy Maguire and Máire Ní Choilm singers; Simon O'Dwyer Bronze Age horns; Brian Dunning flute; The Tredagh Singers, The Boyne Valley Chamber Orchestra and Michael Holohan conductor.
As an added bonus, concert goers will also get the opportunity to hear music from the acclaimed 'Airs of Old Drogheda' concert which took place in the Augustinian Church during the Fleadh Cheoil last August. Funds raised will go towards Drogheda Cares at Christmas and The Barlow House Restoration Project.
€15 euro available from the Droichead Arts Centre box office, Stockwell St, www.droichead.com  041 9833946 and the Augustinian Shop, Shop St.